Robot Masters
Robot Master
Weapon
Waffe
Weakness
Schwäche
Cloud Man
Thunder Bolt
Danger Wrap
Junk Man
Junk Shield
Thunder Bolt
Freeze Man
Freeze Cracker
Junk Shield
Burst Man
Danger Wrap
Freeze Cracker
Slash Man
Slash Claw
Freeze Cracker
Spring Man
Wild Coil
Slash Claw
Shade Man
Noise Crush
Wild Coil
Turbo Man
Scorch Wheel
Noise Crush
Tipps & Tricks
Noise Crush can be charged up immediately by making the shot bounce from the wall back to Mega Man.
Press the Select Key while being in the select screen to enter the shop. You're able to craft various items using Bolts.
The flight path of Freeze Cracker can be controlled partially. That makes it useful for the final battle against Dr. Wily.
Noise Crush lässt sich sofort aufladen, indem Mega Man den Schuss an der Wand abprallen und zu sich zurück fliegen lässt.
Drückt im Auswahlbildschirm die Select-Taste um zu einem Shop zu gelangen, in welchem ihr viele Items für Bolts herstellen könnt.
Freeze Cracker lässt sich in seiner Flugrichtung teilweise steuern, weswegen diese im allerletzten Kampf gegen Dr. Wily gut geeignet ist.
Items
You'll receive the Super Adapter upon collecting all letters (R-U-S-H).
Ihr erhaltet den Super Adapter sobald ihr alle Buchstaben (R-U-S-H) eingesammelt habt.
Burst Man's Stage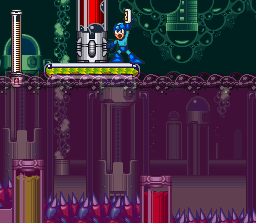 R: Can't miss it.
R: Nicht zu übersehen.
Cloud Man's Stage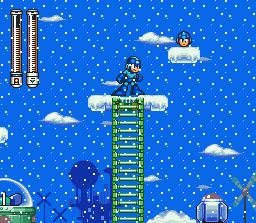 U: Attack the second weather changing robot using Freeze Cracker. Later in the level, you'll be able to reach a high up ladder by using Rush Coil. You'll find an extra life and to the left the letter U.
U: Greift den zweiten Roboter, welcher das Wetter verändern kann, mit Freeze Cracker an. Später im Level erreicht ihr eine höher gelegene Leiter mit Rush Coil. Die Leiter führt zu einem Extraleben. Weit links von diesem liegt der Buchstabe U.
Junk Man's Stage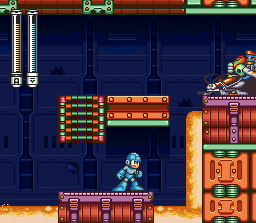 S: Destroy the first small lava fall on the right side using Freeze Cracker. This opens a way leading downwards. One floor below, you'll find another lava fall to the left.
S: Zerstört den ersten kleinen Lavafall an der rechten Seite mit Freeze Cracker. Dies legt einen nach unten führenden Weg frei. Eine Etage tiefer gibt es links einen weiteren Lavafall.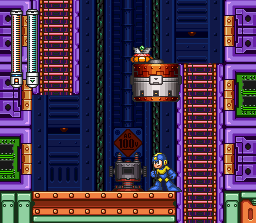 Rush Jet: You are able to activate the power using Thunder Bolt in a room with various ladders leading upwards. Once electricity is restored, go up the ladders on the left side.
Rush Jet: In einem Raum mit vielen nach oben führenden Leitern, könnt ihr unten mit Thunder Bolt die Stromzufuhr aktivieren. Geht anschließend an der linken Seite die Leitern hinauf.
Freeze Man's Stage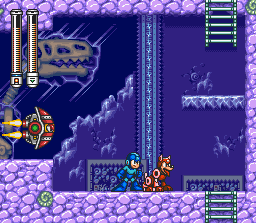 H: Use Rush Coil to get to an otherwise unreachable ladder.
H: Verwendet Rush Coil zur unerreichbaren Leiter.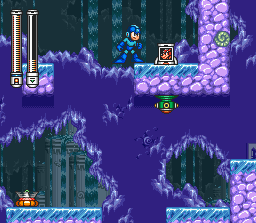 Rush Search: Follow the icy path above about halfway through the stage. Use Rush Coil to reach far away platforms.
Rush Search: Nach Mitte des Levels haltet ihr euch auf dem oberen Eisweg. Verwendet Rush Coil um weiter entfernte Plattformen zu erreichen.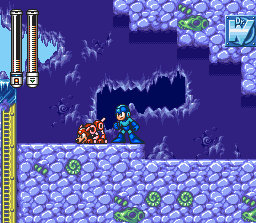 Escape Unit: Use Rush Search in the area leading to the Robot Master hallway.
Escape Unit: Sucht die Gegend vor dem Gang zum Robot Master mit Rush Search ab.
Spring Man's Stage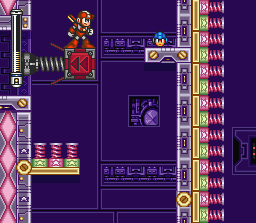 Hyper Bolt: In a huge room containing numerous springs, go up and left. You'll find a box containing a fist on the left side and an extra life on the right side. The fist is able to open a path punching through the left wall. While standing on the box, jump to make it rotate.
Hyper Bolt: In einem riesigen Raum mit vielen Sprungfedern, haltet euch oben links. Ihr findet eine Box mit einer Faust und rechts von dieser ein Extraleben. Die Faust kann einen Weg zu eurer Linken öffnen. Um die Box zu drehen, springt ihr auf dieser auf und ab.
Use: Unlocks new shop items.
Nutzen: Schaltet Gegenstände im Laden frei.
Shade Man's Stage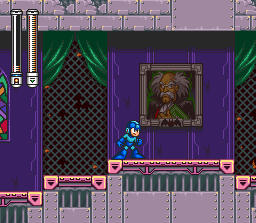 Energy Balancer: Kill the pumpkin robot by shooting the eyes instead of damaging its core. If done correctly, a path to the right is unlocked. You'll find a portrait showing Dr. Wily, which is exactly where you're supposed to use Rush Search.
Energy Balancer: Erledigt den Kürbis-Roboter, indem ihr anstatt sein Inneres, die Augen von seinem Äußeren attackiert. Habt ihr es richtig gemacht, wird rechts ein Weg freigelegt. Ihr findet ein Portrait von Dr. Wily, bei welchem ihr Rush Search einsetzen sollt.
Use: Normally, picking up ammo without a special weapon being equipped is a waste. With the Energy Balancer however, picking up ammo automatically refills energy for the weapon with the least amount of ammo.
Nutzen: Normalerweise geht Energie verloren, wenn Munition ohne ausgewählte Waffe aufgesammelt wird. Dieses Item gibt in so einem Fall der Waffe Energie, welche derzeit am wenigsten Munition zur Verfügung hat.
Turbo Man's Stage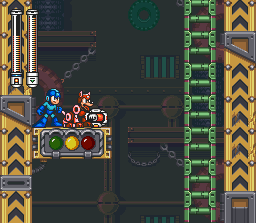 PU Fist: Use Rush Search on the second platform with signal lights.
PU Fist: Verwendet Rush Search auf der zweiten Plattform mit Ampellichtern.
Use: Increases the range of the Super Adapter's fist.
Nutzen: Erhöht die Reichweite der Faust vom Super Adapter.
Slash Man's Stage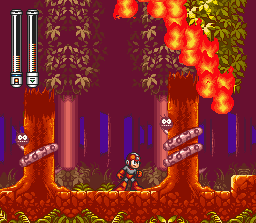 Beat: Burn down the final tree one screen past the T-Rex using Scorch Wheel. You'll find the ladder leading to Beat. A charged up Buster shot destroys the cage he's trapped in.
Beat: Einen Bildschirm nach dem T-Rex, brennt ihr den letzten Baum mit Scorch Wheel nieder. Dadurch deckt ihr die Leiter auf, welche zu Beat führt. Ein aufgeladener Buster-Schuss befreit ihn aus seinem Käfig.
Use: Saves Mega Man from dying when falling down a pit.
Nutzen: Rettet Mega Man, wenn dieser in einen Abgrund fällt.