Clear Career ModeKarriere abschließen
Play through all of Career Mode. That automatically includes all special events (DVDs, Magazine Covers) and most races. Outrun Race Rewards are missable, so watch out for those.
Spielt die Karriere durch. Dies beinhaltet automatisch alle Special Events (DVD, Magazine Covers) und die meisten Rennen. Hier jedoch ein Hinweis darauf, dass Outrun Race Rewards verpassbar sind.
Win all racesRennen gewinnen
Finish all races successfully. While being in the Garage you are able to select the World Map. This way it is possible to complete both hidden races and races that you've missed for any of the previously completed stages. Races that were designed for off-road vehicles only can be played with any car if selected from said menu. Keep in mind that even not yet completed races aren't supposed to give you any money.
Schließt alle Rennen erfolgreich ab. An versteckten sowie verpassten Rennen könnt ihr auch über den Menüpunkt: World Map von der Garage aus teilnehmen, jedoch nur von bereits abgeschlossenen Stages. Diejenigen Rennen, welche für Geländewagen ausgelegt sind, lassen sich auf diese Weise mit einem beliebigen Fahrzeug spielen. Solltet ihr noch nicht abgeschlossene Rennen von der Garage aus starten, solltet ihr im Rennen einmal einen Neustart dessen durchführen. Andernfalls erhaltet ihr kein Geld.
However, by restarting the race once the game will think you've entered the race via the free roam and will give you a money reward, as long as that race hasn't been completed before.
Zur Erklärung: Normalerweise erhaltet ihr kein Geld für Rennen, welche ihr von der Garage aus aktiviert. Allerdings geht das Spiel nach einem Neustart des Rennens davon aus, dass ihr dieses ursprünglich von der Freien Fahrt aus betreten habt. Dies ist die Bedingung dafür, dass ihr Geld für das Rennen erhaltet.
Reveal all hidden shopsVersteckte Shops aufdecken
Find all hidden shops.
Findet alle versteckten Shops.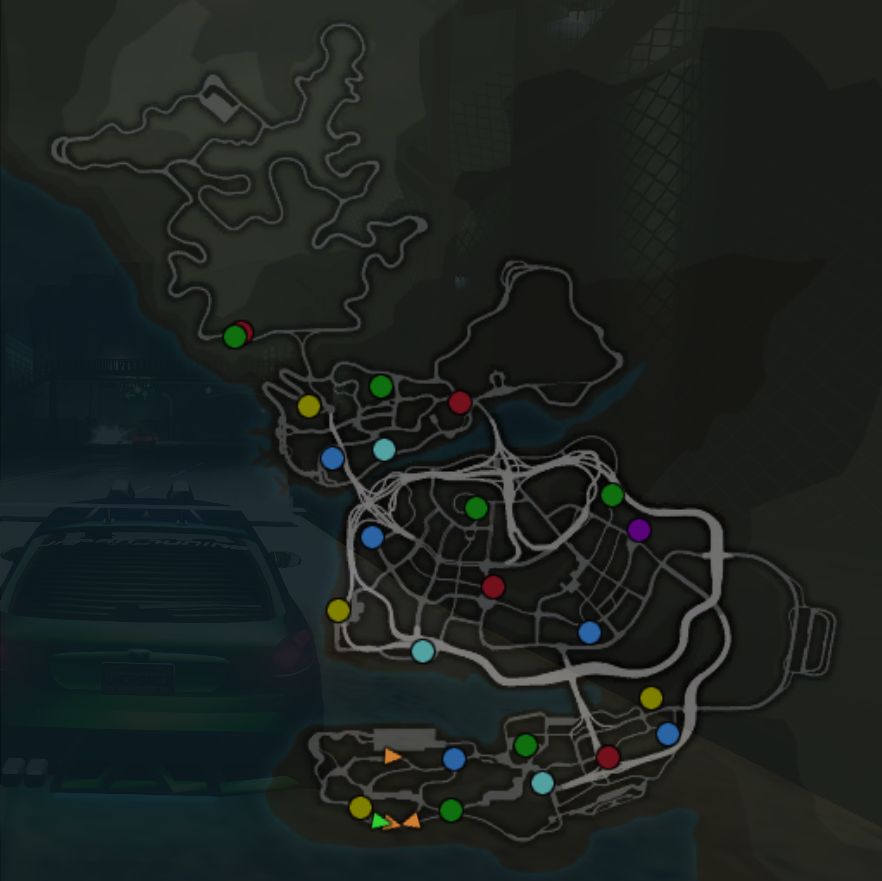 Gather all Outrun RewardsOutrun Rewards ergattern
Get all Outrun Rewards by dueling against opponent drivers while in free roam. Win enough Outrun Races during each stage to unlock rewards. Missed Outrun Rewards are gone permanently. Make sure to do the necessary number of races at the beginning of each stage. The rewards are always very useful for the rest of the game.
Schnappt euch alle Outrun Rewards, indem ihr Fahrer auf der Oberwelt zu einem Duell herausfordert. Gewinnt eine gewisse Anzahl an Outrun Races in einer Stage, um einen Reward freizuschalten. Verpasste Outrun Rewards lassen sich nicht nachholen. Aus diesem Grund ist es empfehlenswert, alle nötigen Siege gleich zu Beginn einer Stage einzuholen, zumal diese für den weiteren Spielverlauf sehr nützlich sind.
| Stage | Upgrade | Requirement | Bedingung | |
| --- | --- | --- | --- | --- |
| Stage 2 | Hood | 4 Wins | 4 Siege | |
| Stage 3 | Performance1 | 3 Wins | 3 Siege | |
| Stage 3 | Rim | 6 Wins | 6 Siege | |
| Stage 4 | Spoiler | 4 Wins | 4 Siege | |
| Stage 4 | Vinyl | 6 Wins | 6 Siege | |
| Stage 4 | Performance2 | 9 Wins | 9 Siege | |
| Stage 5 | Performance3 | 6 Wins | 6 Siege | |
| Stage 5 | Wide Body Kit | 11 Wins | 11 Siege | |
1 Engine / Transmission / Tires
2 ECU / Turbo / Brakes
3 Nitrous Oxide / Weight Reduction / Suspension