Secrets
Stage 1: Axe
You'll reach a junction with a rope leading up and an opening to the right. Go right, which will lead to a dead end.
Ihr erreicht eine Abzweigung, bei welcher ein Seil nach oben und ein Durchgang nach rechts führt. Geht nach rechts und ihr werdet eine Sackgasse erreichen.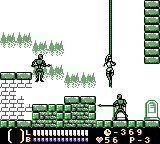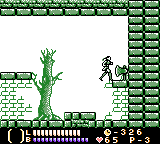 Stage 2: Stopwatch
In a room, where one can either go right or climb up a rope. Choose the way up.
In einem Raum, in welchem ihr entweder nach rechts or ein Seil hinauf könnt. Klettert das Seil hoch.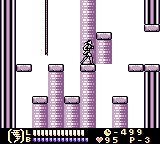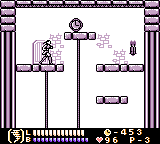 Stage 3: Dagger
Go left instead of climbing up one of the ropes. You'll encounter another set of ropes at a junction, which ultimately lead to the item.
Geht nach links, anstatt eines der Seile hinaufzuklettern. Bei der nächsten Abzweigung klettert ihr stattdessen das Seil hinauf.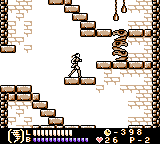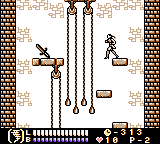 Stage 4: Holy Water
Beyond the Medusa sub-boss, there will be a room with a door on the left and a rope leading up. Choose to climb the rope and ignore the candles in the upcoming room (those are actually enemies). Keep following the way to the topmost room.
Nach dem Zwischenboss: Medusa erreicht ihr einen Raum, in welchem eine Tür auf der linken Seite und ein nach oben führendes Seil wartet. Klettert nach oben und ignoriert die Kerzen im darauffolgenden Raum (diese sind in Wirklichkeit Gegner). Folgt dem Weg bis nach oben.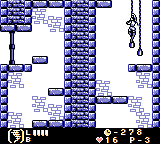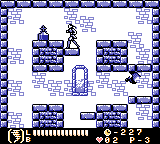 Stage 5: Bonus Stage
After defeating the Minotaur, go through the door of the sub-boss room. Don't go through the opening to your right, but instead stay on the right side of the room and follow the way up to another opening to your right. That opening leads into a room with a few bat enemies, as depicted on the first screenshot. Contrary to the usual game logic, you can drop down into the room below your current position. Do so while trying to stay in the center to fall onto a platform with a candle. Destroy the candle and drop further down to enter the bonus stage.
Nachdem ihr den Minotaurus erledigt habt, verlasst ihr durch die Tür den Raum vom Zwischenboss. Geht nicht durch die Öffnung rechts, sondern haltet euch auf der rechten Seite und folgt dem Weg hinauf. Ihr erreicht eine neue Öffnung an der rechten Wand. Diese führt in einen Raum mit Fledermäusen, so wie auf dem ersten Screenshot angezeigt. Anders als erwartet, könnt ihr hier in den darunterliegenden Raum hinabfallen. Haltet euch dabei mittig, um auf einer Plattform mit einer Kerze zu landen. Zerstört die Kerze und lasst euch weiter hinabfallen, um die Bonus Stage zu betreten.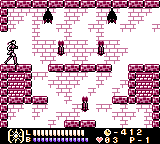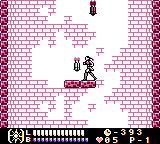 Bonus Stage: Cross
After being trapped and having to fend off a bunch of ghosts, go through the opening on the right.
Nach dem Raum, in welchem ihr gefangen seid und euch gegen Geister verteidigen müsst, begebt ihr euch durch die Öffnung auf der rechten Seite.